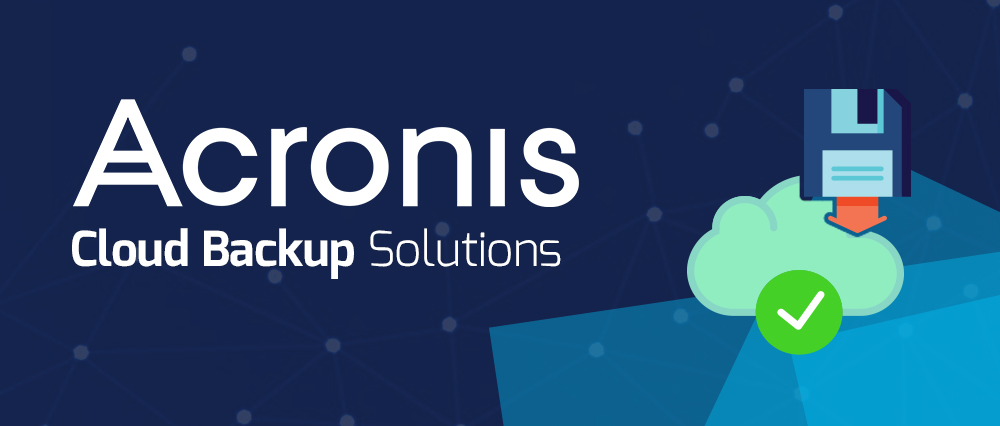 20 Sep

Acronis Backup
What is Acronis backup
Acronis is the leading backup software, disaster recovery, and secure data access provider to consumers, mid-size businesses and organizations. Acronis solutions include physical, virtual, and cloud server backup software, storage management, secure file sharing and system deployment. Acronis products provide easy, complete and safe solutions for data in local, remote, cloud, and mobile devices.
Acronis Backup
Modern IT is rapidly evolving – 86 percent of companies use cloud technologies and almost 70 percent of the workforce is mobile. With IT environments becoming more complex which in turn is applying more pressure on limited IT resources as businesses depend on data and IT systems more than ever before. Businesses can be susceptible to losing important data. Lost data leads to costly downtime, customer dissatisfaction, regulatory fines, and lost revenue. As a result, IT professionals must meet extremely high expectations.
With the volume of data exploding and the IT landscape evolving to hybrid cloud environments, protecting data on-premise, in the cloud and on all devices is the only way to ensure business continuity. Acronis Backup delivers the data protection that meets today's demands. It keeps your business running, protecting any workload, scaling without limits, saving you money, and keeps the company running 24-hours a day.
Acronis Cloud  
Acronis Backup Cloud is a fast, powerful, hybrid cloud backup-as-a-service solution for Service Providers to meet the data protection needs of their customer. It can enlarge the services portfolio of Service Providers and be used to provide customized backup services for their customers.
Acronis Backup Cloud is designed to be:
Fast – Minimal setup required for rapid time to market
Easy – Integrate easily with Odin, Windows Azure Pack, ConnectWise and other automation platforms
Complete – Protect 16 platforms including physical, virtual, cloud, applications and mobile
Flexible – Service Providers can leverage on Acronis Backup Cloud to provide managed or self-service backup services
Reliable – 500,000 businesses, more than 500,000 business and 5M consumers use Acronis solutions with more than 5,000 PB of data protected
Acronis Backup Cloud Features
Complete Business Protection: Protect entire hybrid cloud infrastructure including physical systems, virtual hypervisors and VMs, cloud applications, user desktops and laptops and mobile devices
World's Fastest Recovery: Reduce RTOs to seconds with Acronis Instant Restore, which starts your Windows or Linux backup directly from backup storage as a VMware or Hyper-V VM — no data movement or standby hardware required
Flexible Storage Options: Increase business resiliency for customers by enabling local and cloud backups to Acronis or Service Provider data centre
Easy, Scalable Management: Reduce IT workload and overhead with a touch-friendly, web-based management console for backup and recovery of all workloads and data
Innovative Data Protection: Leverage on Acronis innovations for data protection and scalable cloud storage such as Acronis Storage with Cloud RAID
Why Acronis Backup is better
Proactive Ransonware Protection: Avoids downtime by actively protecting files from unauthorized modification and/or encryption.
Instant Restore: Manage your recovery time objectives (RTO) and diminishes process disruption to seconds, all while maintaining your company's overall productivity with runVM technology.
Complete Protection: Keep your infrastructure and data completely secure, whether you're facing growing amounts of data, adopting new business processes, or migrating to new applications, platforms or cloud. Acronis Backup protects 20+ platforms – physical, virtual, cloud or mobile.
Blockchain Notarization: Prevents damage to or tampering with your files by attacks targeting archive files.
Unmatched Simplicity: Save on licensing, education, integration and daily operations with a simple, scalable tool that manages any data protection task. Our easy-to-learn solution protects data with less effort, so IT generalists can perform backup tasks efficiently.
Hybrid Cloud Architecture: Manage all forms of data protection within one workflow through a centralized management and unified control interface. Back up to any kind of storage and recover any piece of data easily with minimum downtime.